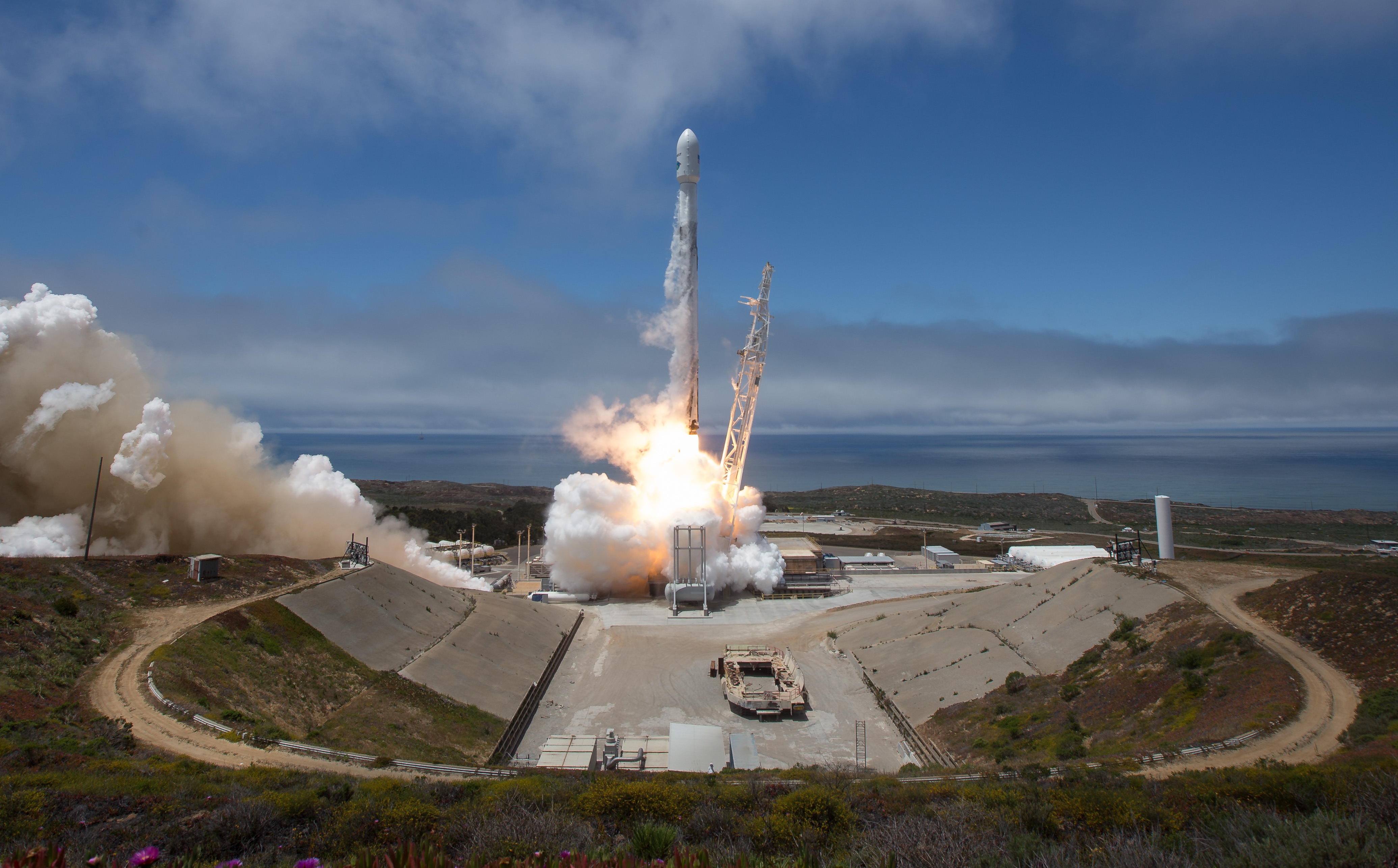 GRACE-FO was injected into a nearly 300-mile altitude, near circular polar orbit like many of the satellites in NASA's Earth Observing System. In this orbit, satellites move around the Earth from pole to pole, taking about 99 minutes to complete each orbit. During half of the orbit, the satellites view the daytime side of Earth. At the pole, the satellites cross to the nighttime side of Earth.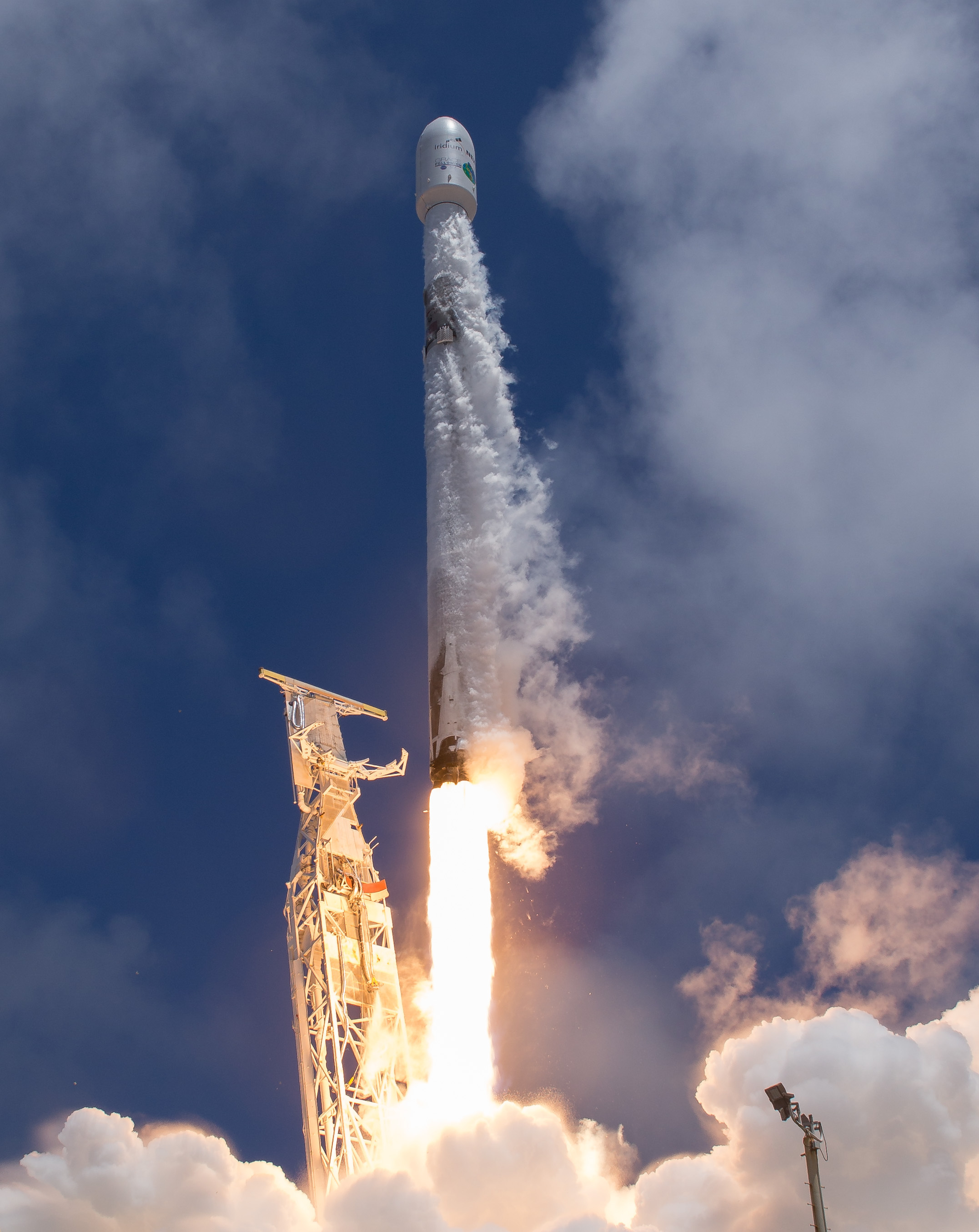 The Falcon 9's Merlin first-stage engine start sequence began approximately three seconds before liftoff. After liftoff, the launch vehicle traveled through maximum dynamic pressure (max Q). The nine first-stage engines burned for approximately two minutes and 45 seconds before being commanded to shut down at Main Engine Cutoff (MECO). Separation of the Falcon 9's first and second stages occured seconds later, followed by ignition of the second-stage engine for second-engine start 1 (SES1), which burned until reaching the injection orbit. During the second-stage burn, the payload fairing, or launch vehicle nose cone, separated into two halves, like a clamshell, and fell away.
Approximately 11.5 minutes after liftoff, the satellites were simultaneously released from the Falcon 9's second stage. The leading satellite moved away from the trailing satellite at a relative speed of about 1.6 feet (0.5 meters) per second. Separation from the launch vehicle caused systems on board the satellites to activate. Less than a minute later, a boom that holds each satellite's radio frequency S-band antenna deployed, and the low-rate radio transmitter were activated. The S-band transmitters continue to transmit until turned off by ground command.
Separation occured over the Pacific Ocean at about 17.5 degrees North latitude, 122.6 degrees West longitude. Vandenberg Air Force Base confirmed a successful separation using downlinked telemetry data from the upper stage. The first data from the spacecraft were received through the first pass over NASA's tracking station at McMurdo, Antarctica. The satellites were in range of the McMurdo station about 23 minutes after separation and within range of the Alaska Satellite Facility tracking station about 45 minutes after that, providing early telemetry data for mission operations.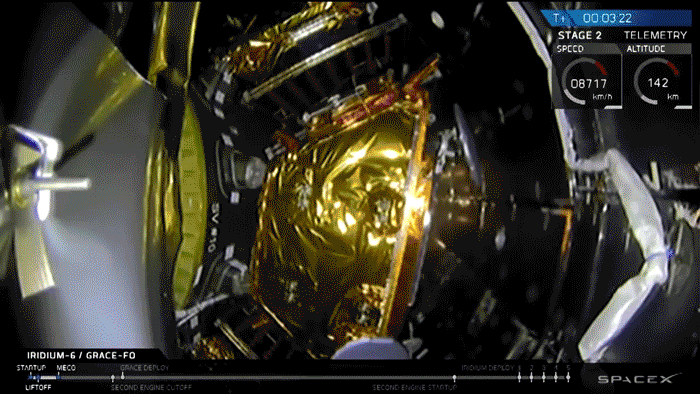 After separation of the GRACE-FO satellites, the Falcon 9 second stage coasted before re-igniting its engine to take the Iridium NEXT satellites to a higher orbit, where they were deployed, one by one.