How GRACE-FO Measures Gravity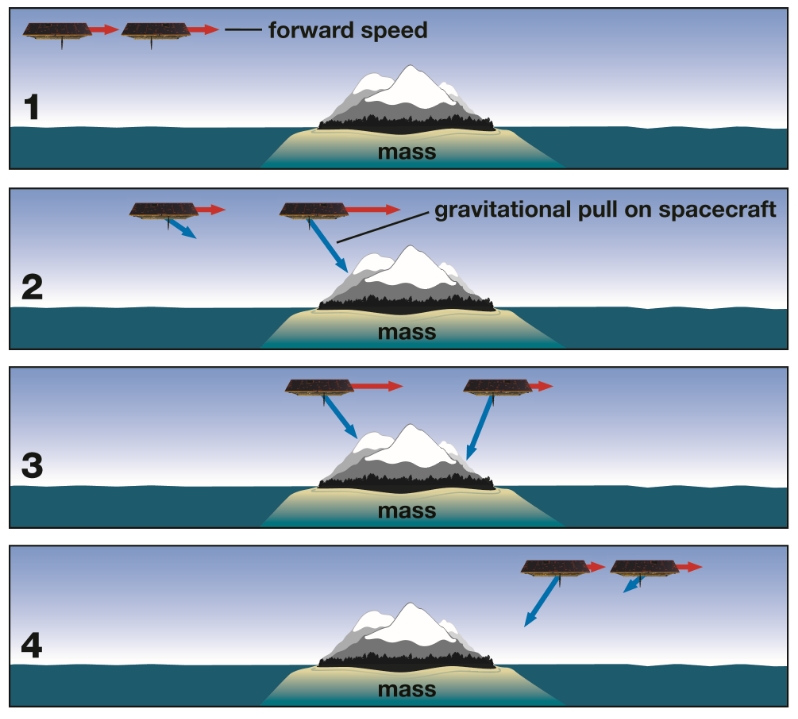 A simplified example of how the distance between the GRACE-FO satellites changes as they pass from the Caribbean Sea across Colombia and Peru (which have higher mass than the oceans) to the Pacific Ocean.
Panel 1: When both spacecraft are over the ocean, the distance between them is relatively constant.
Panel 2: When the leading spacecraft encounters land, the land's higher gravity pulls it away from the trailing spacecraft, which is still over water.
Panel 3: Once the second satellite also encounters the land, it too is pulled toward the higher mass and consequently toward the leading spacecraft. As the lead spacecraft moves past the denser land mass, it is pulled back slightly by the higher gravity of the land.
Panel 4: When both spacecraft are over water again, the trailing spacecraft is slowed by land before returning to its original distance behind the leading spacecraft.